Guaranteed to Set the Standard
Infinidat's comprehensive guarantees for the performance, availability, and cyber recoverability of our platforms set the standard for enterprise storage.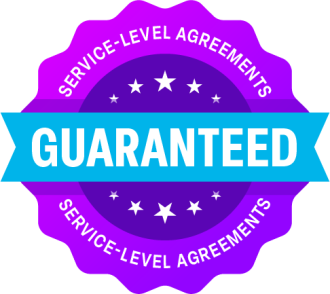 Guaranteed Service-Level Agreements
InfiniSafe Cyber Storage Guarantees

Enhance cyber resilience. Immutable snapshot recoverability is guaranteed. Recover snapshots in under a minute with our InfiniBox platforms and in under 20 minutes with InfiniGuard — guaranteed.
100% Availability Guarantee

Enjoy zero downtime. InfiniBox and InfiniBox SSA are backed by our long-standing 100% availability guarantee — a promise that goes beyond the typical "9's" of the storage industry.

Experience faster application workloads. We work with you to guarantee InfiniBox performance, simplifying management of your SLAs — our primary storage platforms deliver the best performance* in the industry.
"Knowing that Infinidat guarantees rapid cyber recovery based on its InfiniSafe immutable snapshot capability, as well as high performance, we could add this to our data center toolkit that we know our supplier will deliver."
"Not only does Infinidat deliver industry acclaimed solutions that solve the critical storage needs of our enterprise accounts, but their guaranteed SLA program shows our customers that Infinidat stands behind their rock-solid solutions. As a large solutions provider, it also offers us a very valuable sales tool with our customers and prospects."
"With these new SLA guarantees, Infinidat is showing the industry that its award-winning platforms deliver the solutions our enterprise clients need and that Infinidat stands solidly behind their offerings with strong SLA guarantees. Not only do our customers benefit from these guarantees, but, from a channel partner perspective, it gives us another strong message we can deliver to our installed base and prospects."
"With Infinidat's new InfiniSafe cyber storage guarantee, we do not have to be worried about whether we will be able to recover from a malware or ransomware attack. We know Infinidat's immutable snapshot technology will be there to help us bounce back without compromise. Just as Infinidat delivered on its 100% availability guarantee, we know Infinidat will do the same with its cyber recovery and performance guarantees. It sets a new benchmark."
Learn how you can experience faster application workloads, zero downtime, and greater cyber resilience with Infinidat.