Enterprise storage with consistent ultra-high performance and microsecond level latency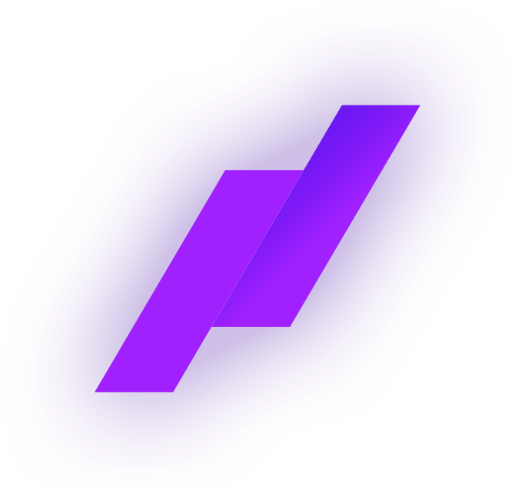 The InfiniBox SSA enterprise storage system is designed for workloads that require consistent, microsecond latency for every I/O and can deliver latency as low as 35µs* (microseconds).
Infinidat's intelligent learning algorithms and Neural Cache allow a very high percentage of I/O to be serviced at DRAM speed. Combining this with an optimized path to solid-state storage ensures outstanding end-to-end performance. Enterprise-class storage with unmatched features and ease of use is included with the added benefit of our performance, 100% availability, and cyber recoverability guarantees.** 
* Based on Infinidat internal analysis of InfiniBox SSA random read hits from DRAM Cache. Actual performance results will vary.
** Terms and conditions apply to all guarantees. Performance Guarantee requires detailed performance analysis.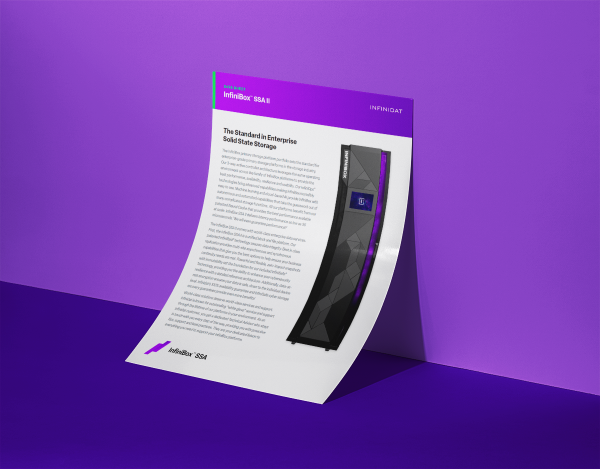 High Performance: Guaranteed
For many enterprise applications, only ultra-high performance and extremely low latency will do. InfiniBox SSA goes all out when it comes to performance and delivers the performance at scale for the most intense workloads resulting in consistent and predictable, microsecond latency.
InfiniBox SSA is designed to meet the specialized needs of enterprise applications and easily surpasses the performance threshold of traditional all-flash arrays. Leveraging an SSD back-end combined with Infinidat's innovative Neural Cache management algorithms, InfiniBox SSA serves much of the I/O from DRAM, which is an order of magnitude faster than flash-based SSDs.
Our performance guarantee assures customers that Infinidat's primary storage platforms will perform in their environments, as expected for their workloads.
InfiniSafe® reference architecture
The InfiniSafe reference architecture for InfiniBox puts strong cyber resilience capabilities at the ready. InfiniSafe enables  the creation of cyber-resilient environments with our products in four areas: 
⦁    Immutable snapshots 
⦁    Logical remote air gap 
⦁    Fenced forensic environment
⦁    Near-instantaneous recovery 
InfiniSafe encompasses a detailed framework to help companies expand their cyber resilience throughout our InfiniBox family of solutions.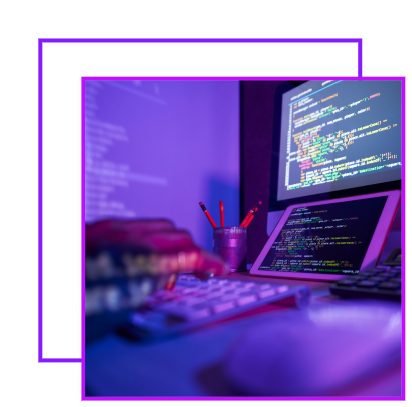 Because your risk should be even lower than our latency (~35 sub)
Infinidat's comprehensive guarantees for the performance, availability, and cyber recoverability of InfiniBox and InfiniBox SSA set the new standard for enterprise storage. Building upon our 100% Availability Guarantee, Infinidat now offers a Performance Guarantee and InfiniSafe Cyber Storage Recovery Guarantees, an industry first for primary storage.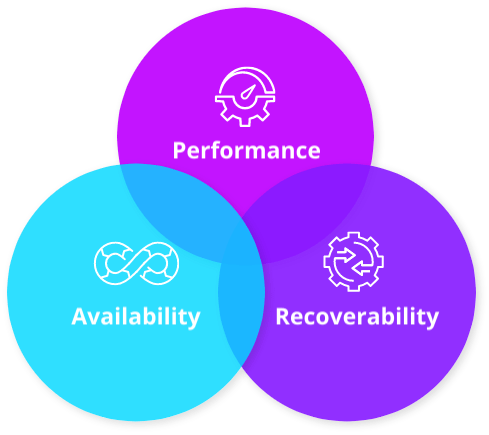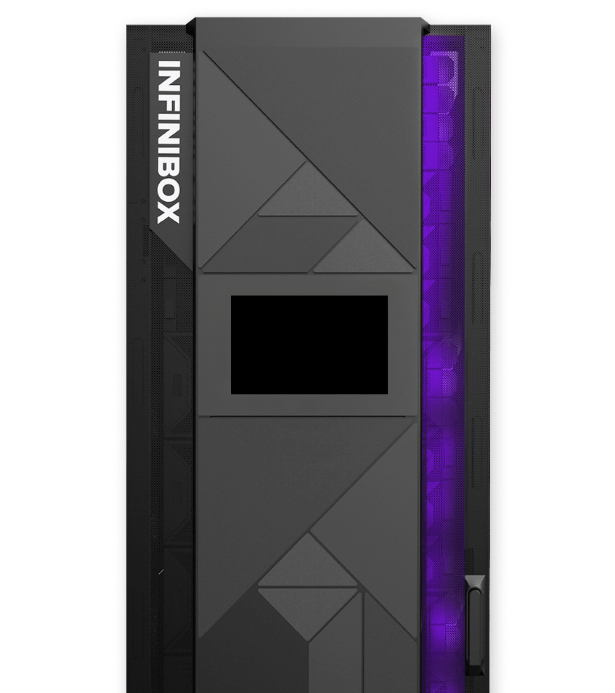 Reliability: 100% availability guaranteed
Every InfiniBox SSA is designed for zero downtime over its lifecycle and comes with a 100% availability guarantee. Our self-healing architecture leverages our patented InfiniRAID® data layout and predictive failure analysis. This delivers the industry's highest availability and non-disruptive upgrades. Hardware and software redundancy is at the core of InfiniBox SSA's rock-solid reliability. All critical components are "active-active-active", enabling rapid recovery from any failure. Additionally, each component in an InfiniBox SSA system must go through an exhaustive integration, verification, and test process prior to arrival in a customer's data center, assuring the utmost reliability. Migration between InfiniBoxes is seamless and non-disruptive.
"Excellent performance and reliability at very competitive cost."
"Excellent performance and reliability at very competitive cost."
"Excellent performance and reliability at very competitive cost."
Business Continuity: Zero-impact snapshots and flexible replication technologies
Space-efficient, zero-impact snapshots simplify data protection and accelerate agile development and quality assurance with flexible options for making copies of your data. Infinidat's integrated replication technologies provide synchronous, asynchronous, active/active, and multi-site replication which provide the highest levels of data availability for business continuity and disaster recovery.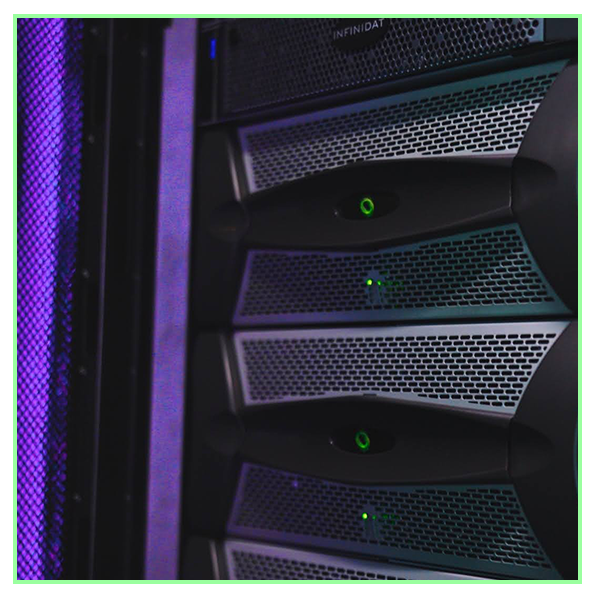 Ease of Management: Storage operations made simple
InfiniBox SSA makes storage operations much simpler with a focus on ease-of-use to reduce administration overhead and allow IT to manage vast amounts of storage simply and easily with minimal staff. The system offers a comprehensive RESTful API that allows for the quick and efficient management of InfiniBox SSA systems. The API enables full access to features and functions such as a simple-to-use, HTML-5-based graphical user interface and a cross-platform command line interface. InfiniBox SSA, like the full suite of Infinidat storage solutions, is driven by simplicity, which enables intuitive, zero-training, efficient storage management.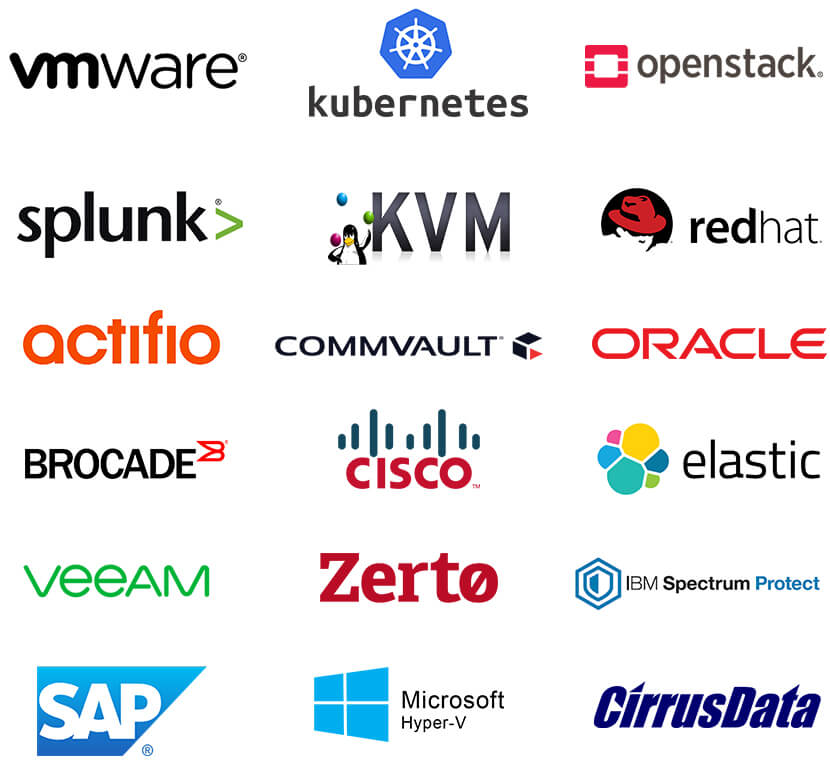 Ecosystem: Seamless integration with critical business applications
InfiniBox SSA easily integrates with critical business applications in the data center including virtualization, analytics, relational databases, and containerization platforms. Host PowerTools, our intuitive host connectivity and storage provisioning tool, reduces management tasks from days or hours to seconds. 
InfiniBox + InfiniBox SSA: The right performance and the right latency at the right time
Together, InfiniBox and InfiniBox SSA enable IT organizations to deliver just the right performance and just the right latency across all their enterprise applications, whether general-purpose or highly performance-sensitive. Both systems leverage Infinidat's innovative Neural Cache for optimal performance, guarantee 100% availability, and offer unmatched scale at a compelling Total Cost of Ownership.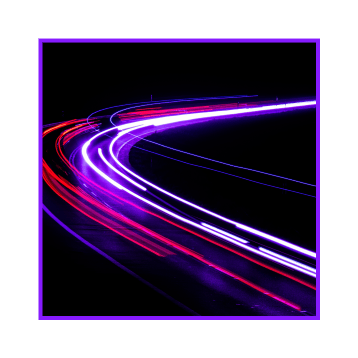 Flexible Consumption Models: Infinidat offers flexible CapEx and OpEx procurement models to meet evolving business needs.