Enterprise storage for a broad range of mixed application workloads at multi-petabyte scale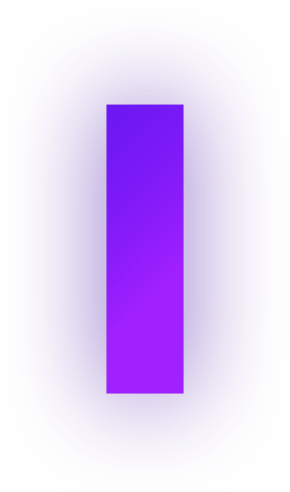 The InfiniBox® enterprise storage system delivers groundbreaking performance, multi-petabyte capacity, 100% availability, and cyber resilience for a broad range of mixed application workloads. Highly flexible zero-impact snapshots, dependable active/active, synchronous & asynchronous replication, and flexible, software-defined quality of service come standard, with guaranteed reliability and data security. Enterprise-class storage with unmatched features and ease of use is included with the added benefit of our performance, 100% availability, and cyber recoverability guarantees.*
With InfiniBox, enterprise IT organizations and managed service providers are able to exceed their service level objectives while radically lowering the cost and complexity of their storage operations. Download the InfiniBox data sheet to learn more.
What's new in InfiniBox? The newest InfiniBox provides up to 72% more effective capacity in the same footprint, delivering faster ROI and substantially better TCO. That means 36% better ROI/TCO and a 42% reduction in power per effective PB making it greener too!
* Terms and conditions apply to all guarantees. Performance Guarantee requires detailed performance analysis.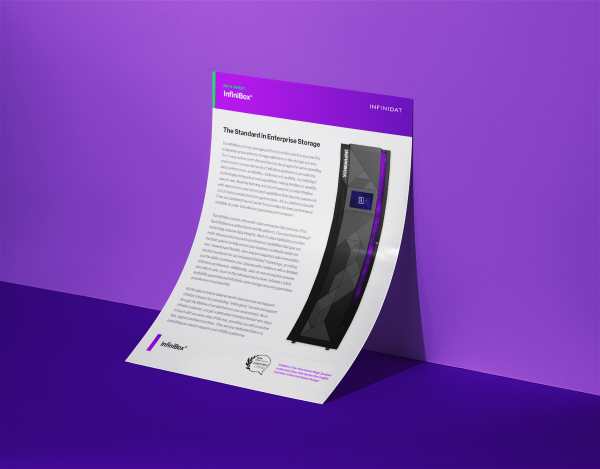 Consolidate multiple systems and workloads
Improve performance and reduce costs
Infinidat customers routinely consolidate entire rows of legacy enterprise storage onto a single InfiniBox system, dramatically reducing data center footprint, power and cooling, and infrastructure complexity. InfiniBox being a unified platform eliminates storage array and filer sprawl, allowing operations and capacity planning teams to leverage economies of scale provided by our unified platform. Flexible, software-defined quality of service and guaranteed reliability ensure that mission-critical line-of-business applications run nonstop alongside development and test workloads on a secure, scalable, efficient storage infrastructure.
Because your risk should be even lower than our latency (~35 sub)
Infinidat's comprehensive guarantees for the performance, availability, and cyber recoverability of InfiniBox and InfiniBox SSA set the new standard for enterprise storage. Building upon our 100% Availability Guarantee, Infinidat now offers a Performance Guarantee and InfiniSafe Cyber Storage Recovery Guarantees, an industry first for primary storage.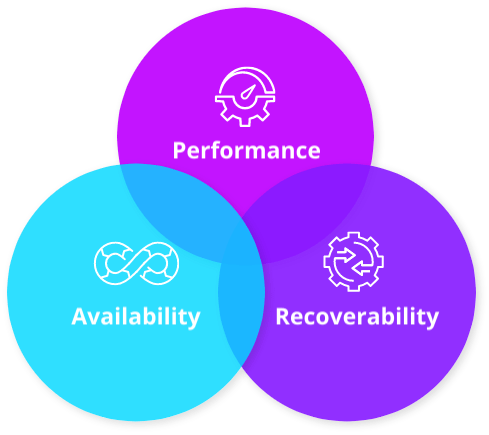 High Performance Guaranteed: Attain groundbreaking performance at multi-petabyte scale
The heart of every InfiniBox is our patented Neural Cache, leveraging machine learning and AI algorithms Neural Cache maintains a connected history of every data section the system has received since inception. By observing all network traffic to the storage system, Neural Cache uses the I/O history to recognize correlations in data access patterns and immediately begins predicting future I/O requests, which are preemptively staged in cache. Because most I/O requests are served directly from DRAM, InfiniBox customers can expect higher application performance from their workloads. InfiniBox SSA takes the groundbreaking performance of InfiniBox even further for the most extreme enterprise applications — those that require ultra-low latency for every single I/O.  
Our performance guarantee* assures customers that Infinidat's primary storage platforms will perform in their environments, as expected for their workloads.
* Terms and conditions apply to all guarantees. Performance Guarantee requires detailed performance analysis.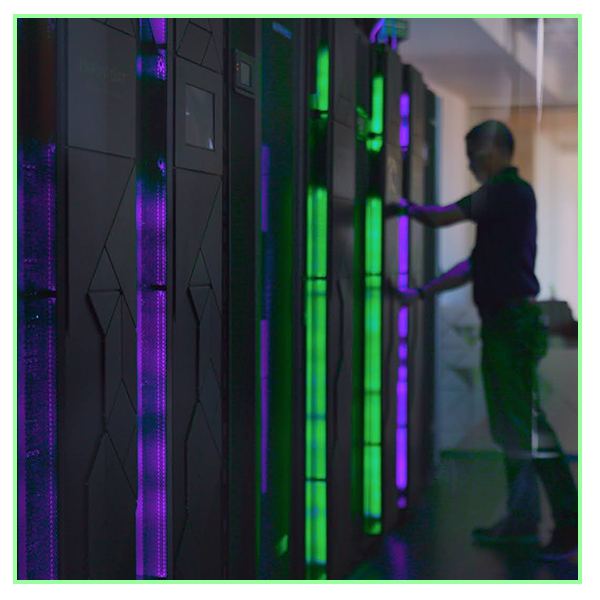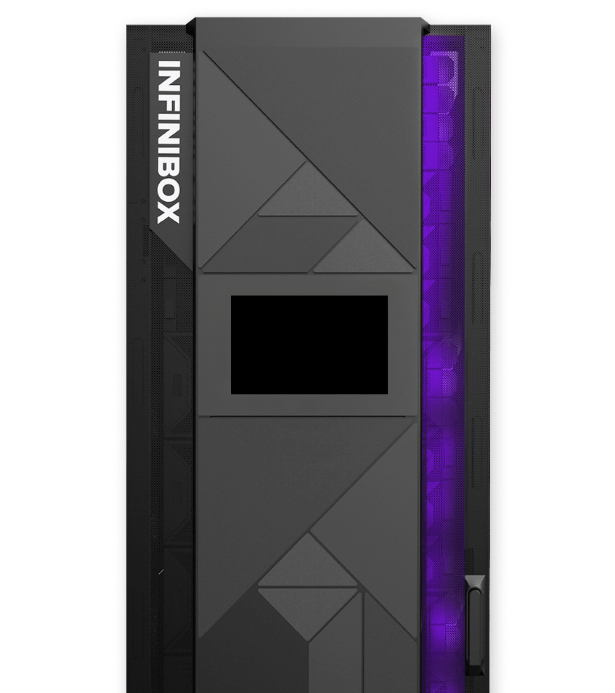 Reliability: 100% availability guaranteed
From the earliest InfiniBox installations dedicated to core banking workloads in the US, to the current global footprint that supports life-, safety-, and mission-critical customer workloads on six continents and in every industry we serve, Infinidat has earned an unprecedented reputation for product quality and reliability from a customer community that has zero tolerance for downtime. Every system is designed for zero downtime over the course of its entire lifecycle, and comes with a 100% availability guarantee.
InfiniBox's unprecedented reliability begins with hardware and software redundancy. Every single component in the data path is N+2 redundant. In addition, our team operates the largest and most sophisticated storage QA lab in the world (over 150 PB). Customers rest easy knowing that every component of every system passes through an exhaustive integration, verification, and test process prior to arrival on their data center floor, and their storage will run for its entire installed lifetime without interruption. 
"Easy setup, awesome performance, responsive support"
"Storage The Way It Should Be; Simplified, But Performance Oriented."
"Great Support! Great Appliance! Great tools for automation!"
Cyber Resilience: InfiniSafe® reference architecture
The InfiniSafe reference architecture for InfiniBox puts strong cyber resilience capabilities at the ready.
InfiniSafe enables the creation of cyber-resilient environments with our products in four areas:
⦁ Immutable snapshots   ⦁ Logical/Remote air gap  ⦁ Fenced forensic environment   ⦁ Near-instantaneous recovery
InfiniSafe encompasses a detailed framework to help companies expand their cyber resilience throughout our InfiniBox family of solutions. Our InfiniSafe Cyber Storage Guarantees for recovery and recovery time performance provide added assurance. We guarantee that an immutable snapshot can be recovered in one minute or less**, and in most cases, recovery is nearly instantaneous.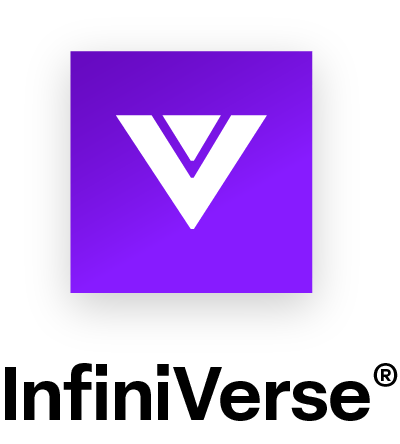 InfiniVerse: Holistic monitoring, predictive analytics, and support
InfiniVerse, an integral part of our InfiniOps™ capabilities, is the future of storage management and monitoring for petabyte-scale systems. It combines system telemetry with intelligent, predictive analytics to provide highly detailed reports and actionable insights. Quickly identify potential performance bottlenecks in your network infrastructure, find and reclaim capacity from dormant volumes, and simplify resource planning without having to use Excel.
Flexible Consumption Models: Infinidat offers flexible CapEx and OpEx procurement models to meet evolving business needs.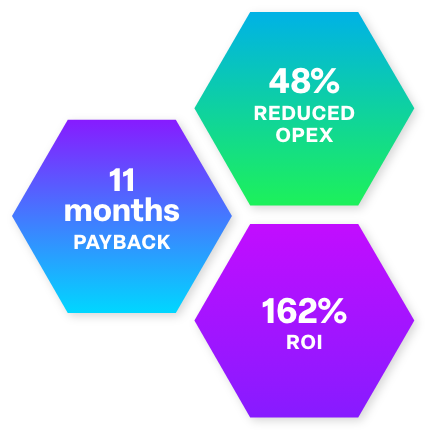 Lowest TCO: Benefit from the lowest TCO for multi-petabyte storage available anywhere
There's a reason CIOs and Procurement Officers love Infinidat. Our customers experience a step-function reduction in both CapEx and OpEx when they migrate from legacy systems to InfiniBox, many times consolidating many to one, while simultaneously improving application performance and reliability.
InfiniBox makes IT organizations more agile with Elastic Pricing which allows customers to pay for storage with a combination of CapEx (Base Capacity) and OpEx (Burst Capacity). IT managers can, depending upon budget constraints and business needs, self-provision additional Base Capacity or Burst Capacity, and convert Burst Capacity to Base Capacity at any time. Read the IDC white paper, The Business Value Infinidat Storage, to learn how to achieve unmatched ROI and achieve payback in only 11 months.
Truly Unified Storage: One platform for Block and File
Unlike traditional "unified" storage, which is an open source file system bolted onto a block array, InfiniBox was built from the ground up to deliver petabyte-scale NAS and SAN in parallel.
The Infinidat File System (IFS) is a first-level peer to the block service, and is a clean-sheet design that employs a stateless, functional programming paradigm to deliver petabyte-scale NAS services that couple directly with Neural Cache. Along with conventional NAS workloads, InfiniBox excels at extreme use cases, such as trillions of objects in a file system and millions of files per directory, which are simply not possible with traditional NAS filers supporting SMB and NFS .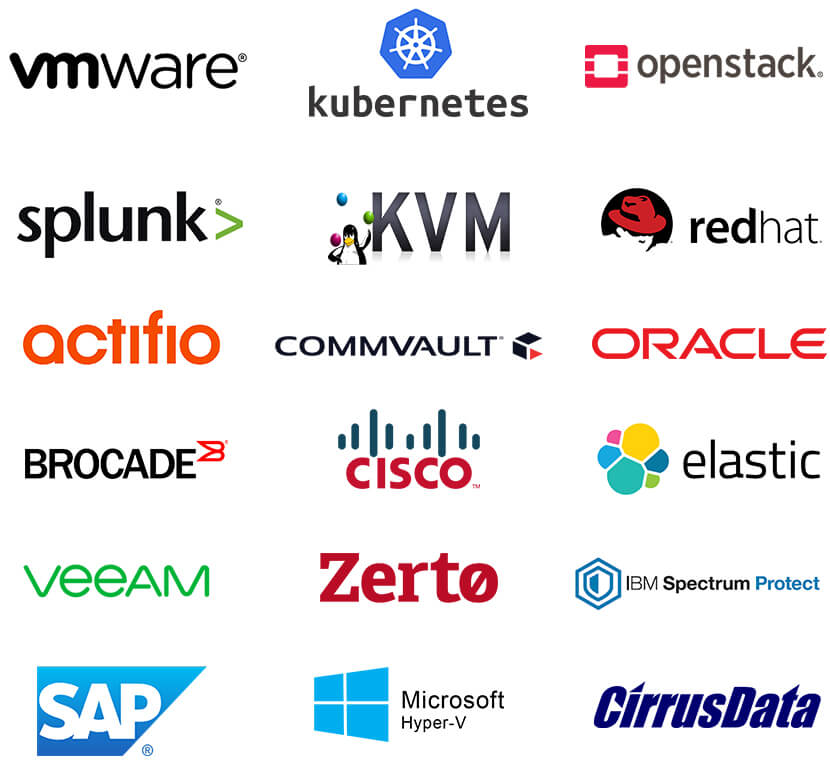 InfiniOps™ Extended Ecosystem: Seamless integration with the apps you need
InfiniOps encompasses our AIOps and DevOps integrations and extends to ecosystems and provides seamless integration with leading IT applications and platforms, including relational databases, analytics, hypervisors, and containerization platforms. From Oracle to Splunk and VMware to Kubernetes, InfiniBox includes the integrations customers need to build modern data center solution architectures. 

New SSA Express All-Flash Workload Capable
InfiniBox provides outstanding performance, but when you need that little bit extra, SSA Express, included in InfuzeOS adds all-flash workload performance within the InfiniBox platform adding up to 320TB of all-flash capacity. Performance-sensitive applications can have rapid, low-latency response by adding datasets to the SSA Express volumes, creating a powerful all-flash array within your InfiniBox powering even more consolidation and eliminating the need for point solutions!
*Available Q4 2023
Ease of Management: Storage operations made simple
The front end of InfiniBox's control plane is an easy and intuitive management interface that presents every storage function, from provisioning to performance analytics to security, in an intuitive user-centric view. Behind the scenes, the GUI and CLI are in fact just thin, stateless clients that consume InfiniBox's REST API.
InfiniBox's many programmatic interfaces enable easy integration to data center provisioning and monitoring environments. Watch the actual REST calls and responses generated while using the GUI. If you can do it in the GUI, you can cut and paste it into a DevOps script.